I think of Midnight Dome in very personal terms: it's an album that was born from what now, in retrospect, I can see was a highly emotional and personally transformative period. It is a document of transition and growth; a sloppy meditation on the moments of bliss and anxiety, memories, and thoughts of the future. At times, as it was coming together, it felt effortless – and other times, it felt like a wholly meaningless, frustrating mess.
I've always worked slowly. The period following the release of Cities of Cedar was prolific, yet highly uninspired. My urge to create was high, but the output always felt disconnected from what I was hoping to make. For folks who create (or really, even just exist), feelings of frustration can sometimes come in long waves; however we handle them is a unique fingerprint of the self. My realization was that I wasn't allowing creativity to happen organically, but attempting to force it: a self-perpetuating cycle of creative anxiety and disappointment. Thankfully, I've grown and evolved since then.
I was burned out for perhaps the first time in my life. Katie and I had planned our wedding, traveled, and socialized frequently. We both had creative jobs that taxed us in different ways. New York, to us, existed in a fever pitch duality of love and hate, revealing itself to not be a sustainable future for us for much longer. Yet so too was our existence itself: hovering, stagnant, in the gel of our late 20's/early 30's, deriving less of a lasting pleasure from our freedom, and beginning to realize we were needing to progress.
INSPIRATION AND PROCESS
Within this context, I was starting to think of the shape of what I was looking to create, musically. I settled into the idea of a seamless track sequence early on. I'd been making field recordings nearly everywhere I traveled, often even in personal moments, and I planned to incorporate more of those fragments to create ambient interludes between songs. I'd always had a bit of a fascination with the Dutch musician Secede, who released an album called Tryshasla in 2005. While not wholly an original idea, a seamless sequence, Secede encapsulated a vibe that led the listener through a space: haunting voyeurism one moment, late afternoon sun-soaked bliss the next.
At this time professionally, I was somehow in the midst of a string of projects where my rough sketching "skills" were being requested. These "skills" are hardly skills: it is tracing, quite often, and when it is not, it is "poorly drawing," plain and simple. Yet it was (and still is) quite fun.
One evening, I found myself tracing a murky image of a geodesic dome. I used it to create a sloppy visual of a dome at night, the lights on, and called it midnight dome rough.psd. It was how I created and where my head existed at that time: a warm, omnipresent glow accompanying a wandering, nocturnal creativity.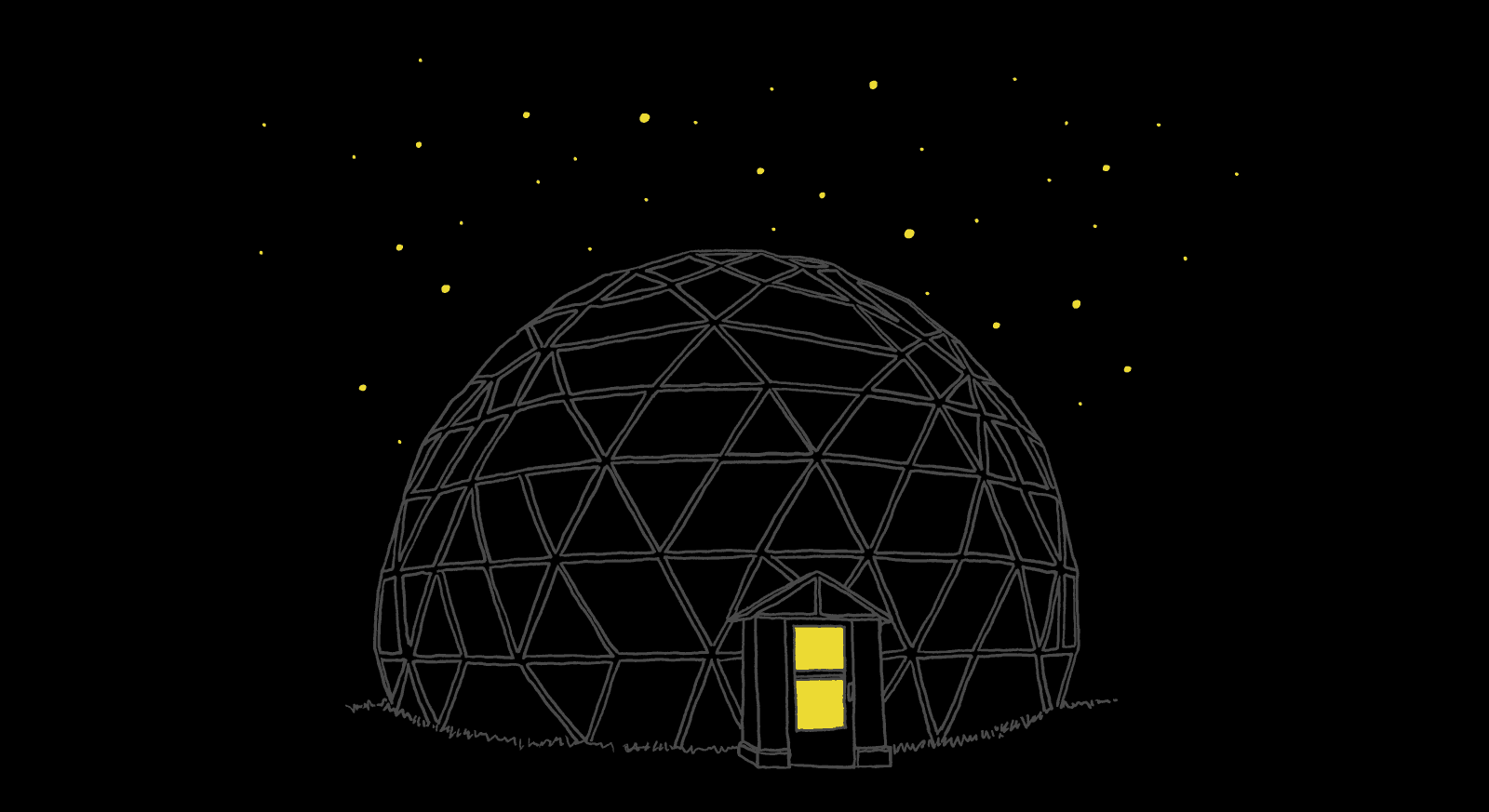 That original concept stuck both emotionally and visually. Upon completion of the album, in designing the artwork, I'd chosen a photograph (one of the many multiple exposure 35mm images I'd made at the time) of hovering orbs and a couple entering the glowing stairwell of the Spring Street subway station.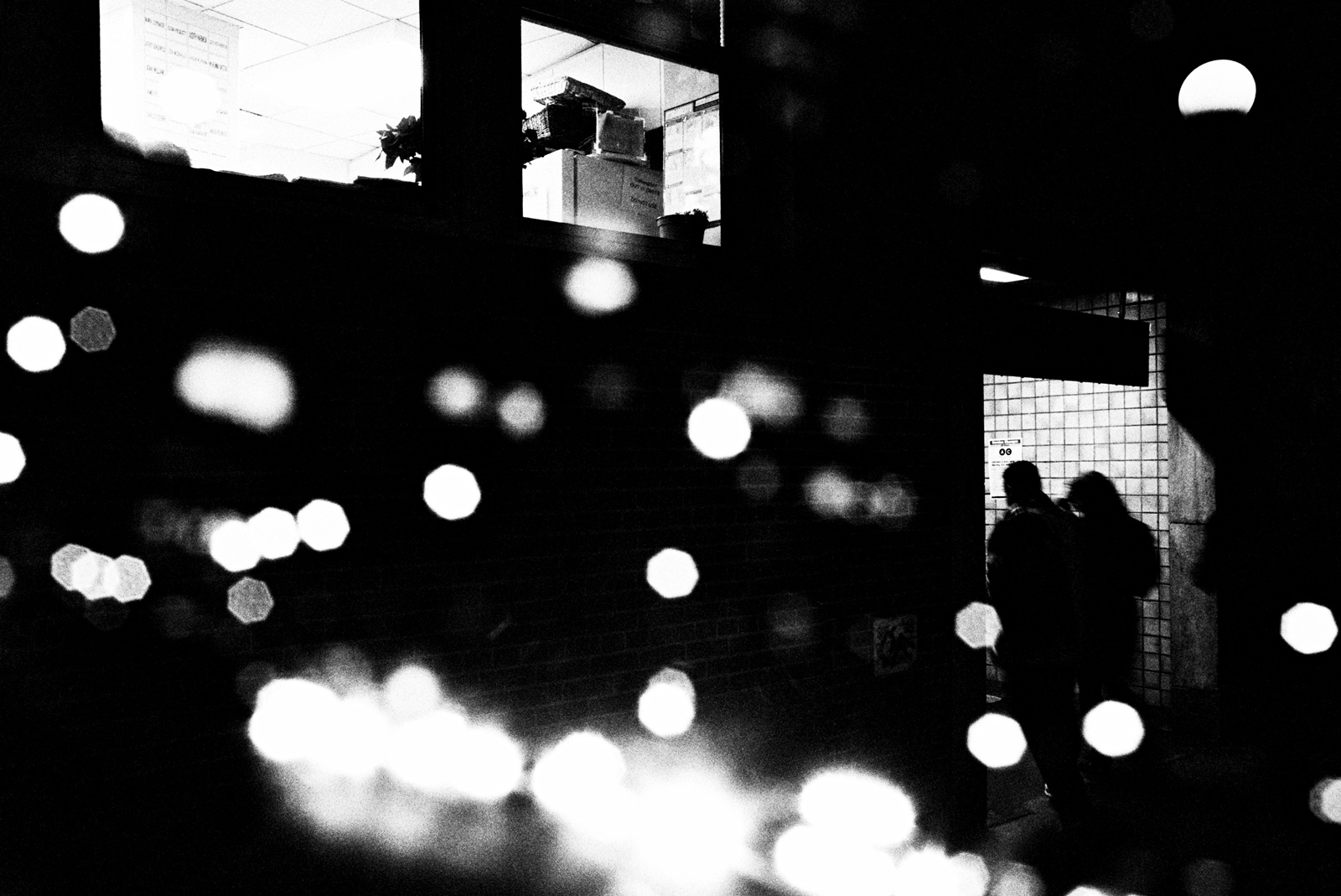 The inimitable David Tagg (artist and owner/creator behind Expanding Electronic Diversity, INSTALL, etc.) agreed to help create bespoke packaging for the release – a swivel-hinged case of clear and black plastic limited to 65 copies. Even in 2011, it felt like you should only be producing physical media if it was truly special and worth it. I hand-assembled the 65 copies over three nights and released the album with my pals Wil and Murray at Boltfish.
In the end, it was a personal document that still resonates with me to this day; an encapsulation of that time in my life before where I am now. I'm beyond it, elsewhere, able to glance back and see the full gamut of emotional experiences as the bridge to a more contented, calm self.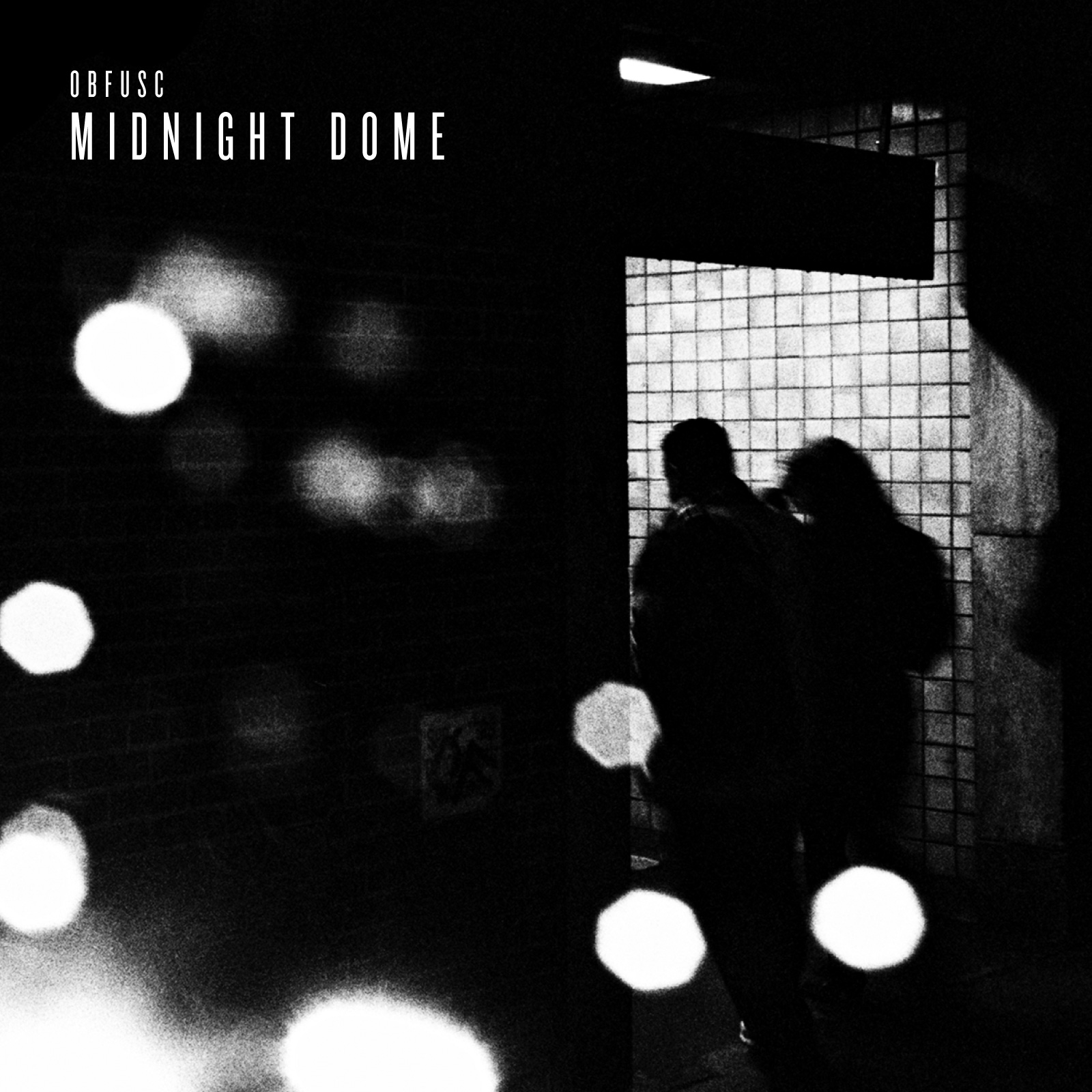 TRACK COMMENTARY
01. Warming
I thought of this intro exactly as the title states: a warming of the mind with sound. As I'm often recording and gravitating toward various sounds of water – waves, rivers, rain – it is unsurprising I thought a water sound would be of use, here. It's a simple looping segment and vocal snippet of my wife on a desolate Jamaican beach at night, ca. 2010.
02. Hologram Grip
In the winter following our wedding, Katie (freshly unemployed, courtesy of the 2008 recession) and I found ourselves watching the entire run of the television show Northern Exposure. I recorded a number of dialogue sections while watching, including the perfect embodiment of our collective attitude toward New York, which I ultimately ended-up using in this song. In the show, the characters Maggie and Joel, following this sort of mid-evening hallucination he'd been having, hike through the Alaskan forest to find a mirage of New York glowing from across a frozen lake. As Joel attempts to lure her to this oasis, finally escaping the isolation of Alaska, Maggie says: "New York City – whatever that is, it's for you. That's your place. It's not mine."
The title is a visual suggestion of a particular arcade game in the 90's – a visually stunning (relatively speaking) and completely unplayable "holographic" game – and how, invariably, separate from playing said game, one would reach their hand through the holograms (despite knowing there was absolutely no reason to do so). I'd venture a guess and say I also viewed the title as a suggestion that whatever I thought I had figured out about existence and the universe was a generous delusion.
03. Oceanic Glow
This one, probably more than any other song I've made, was hard to get to. In stark contrast to the relative ease of creating what became Inverted Island (Day Mix) – the 7" A-side to Oceanic Glow (Night Mix), in its original appearance – I struggled, here, to gain a footing. Having settled into a sort of visual and thematic framework for the pair of tracks, working within that constraint proved difficult. Upon stumbling into the pulsing, jangly sound for the main synth parts, however, the track opened up: the process and result became one of my all-time favorite creative experiences. I recorded the bulk of the song in two sittings and the mix came together almost as quickly.
A top musical highlight, for me, involved driving out to Long Island – with Katie and our friend Elissa – to share the first listen of vinyl test pressing with my good pal (and oft-collaborator) Chris. We sat in his sparse listening room, music fading in, and I just smiled, finally sharing the culmination of months of creative struggle and personal musical breakthroughs with close friends.
Oceanic Glow is one of the songs that, on the occasion that I go back and listen to something I've made, I find it hard to believe it was me making those decisions. I'm still surprised, and proud, of where it sonically takes me.
04. Rust In Your Hair
Built around a field recording I'd made at night along the beach in Asbury Park, NJ: following four friends, divided into pairs, walking along the surf in various altered states. I walked between them, recording with my iPhone, my unaware friends' conversational snippets amidst the crashing waves.
Initially, this segment (with the synth melody), was part of an unreleased 6-minute demo called Fine-Tune My Headspace, but it ultimately felt better on its own. That track I'd worked on for 2-3 months, off and on, and was just – despite its mediocrity – really hard to put to rest. To take a small piece of it away made it easier to bury it for the ages.
05. Our Signals Coalesce
I had re-acquired my old 4-string Fender jazz bass – a bass I purchased impulsively (at age 16) and never actually enjoyed the sound or feel of – and was actively recording tracks to play it on. I'm pleased to report that I did manage to play it on several tracks, but I'm even more pleased to report that I sold it to a more appreciative owner. Upon realizing how little connection I had with the bass, parting ways with it felt like a little loop was closed.
As I recall, Our Signals Coalesce was recorded almost last. It served as a casual reflection on what I'd produced for the record previously – the live instrumentation I sought to incorporate more, the focus on looping psychedelia – but in a more confident regard. The title was a reflection on pairings, unions: that which I was in and understood the depth and limitlessness of. Individual signals, weaving together, creating a beautiful, harmonizing tone.
During the only live public set I've ever done as Obfusc, I paired the song with 8mm travel films shot by my great grandparents. The use of same "pulsing, jangly synth" from Oceanic Glow brought to mind sunny, tropical climes. Mid-century footage of a humid Floridian winter is the perfect pairing for what the song feels like (to me), so I'm happy to have a visual document of such.
06. Inverted Island
The original drafts of Inverted Island (later dubbed the unreleased "Night Mix") clocked-in at close to 7 minutes in length. Following [most] of what became the sub-5 minute "Day Mix" version (side A of the 7-inch single on Static Caravan), things ramped up into a percolating, upbeat IDM. Being pragmatic about the constraints of the format it was being created for – and with some impartial, sage advice from friend/collaborator Steve DePalo – I chopped the track and focused on the sort of sunrise/epiphany vibe to close it out. The "night" still heavily influences the tone of the track, however, especially in the early parts of the song.
That "sunrise/epiphany vibe" created the perfect thematic framework for the 2-song 7-inch – a day/night cycle, of sorts. In hindsight, despite the final direction of Inverted Island (Day Mix) different so much from its initial, it came together much more quickly than the b-side, Oceanic Glow (Night Mix).
07. Radio Beach
A composite of three distinct sources, each recorded on the iPhone I owned at the time, and recorded/mixed on a Tascam 424 Portastudio 4-track cassette recorder. The first, recorded one windy afternoon while hiking down large, loose lava rocks on Snæfellsnes Peninsula in Iceland (accompanied by the aforementioned Murray). The second, a forgotten, random acoustic guitar part. The third, a live broadcast (in Icelandic) found while combing shortwave bands with a crank radio I'd brought along for a purpose such as this.
08. Language of Memory
Returning to the same glorious well of Northern Exposure from which Hologram Grip also drew, the Maggie character sees the Manhattan skyline and states, "It's just a reflection off the ice."
I continued expanding on my use of live instrumentation while arranging this track, recording a multitude of guitar parts (both electric and acoustic) and incorporating multiple varieties of live percussion. Additionally, it's one of two songs where I used my voice to add melodic layers (in the later acoustic portion). And I might've recorded a lighter (or two).
I thought of Language of Memory and the next track, Nostalgia Artifice as a sort of symbiotic, conceptual pairing: Our memories are fallible, yet inform so much of who we perceive ourselves to be, how we present ourselves to the world. How can we authenticate feelings that which we believe to be true? I wouldn't say I find it concerning, but it is a recurring thought I have when also thinking about feelings of familiarity, nostalgia, and recurring dreams – how can we ever be certain we've experience something before, even if it feels so familiar?
09. Nostalgia Artifice
A field recording composite from a bevy of sources: harbor seals outside Astoria, OR, a tightly-cropped loop of river and bird sounds along the Bruce Peninsula in Ontario, CA, and the shutter sound of my beloved Hasselblad 500C. In essence, creating an artificial memory.
10. Endless Rhyme
Often, when I'm in the practice of casually playing electric guitar, I'll slip off into aimless excursions of looping ambience; Endless Rhyme is the result of one of those sessions. I'd been playing with a shortly-owned Boss DD-20 digital delay pedal and began making looping, one-take textural recordings direct to four-track cassette (via the inimitable and aforementioned Tascam Portrastudio). The title spoke to the nature of looping music, to me, having a shifting, endlessly rephrasing nature; one listen, your ear follows this timeline, the next, an entirely different one, perhaps. There exists a depth in the simple textures that I found easy to get lost in, which is exactly how I wanted to end the album: inviting one to stare into the impossibly vast, endless nothingness, and find comfort and peace.
To stream or purchase Midnight Dome in its entirety, please visit the Obfusc Bandcamp.